DESIGNER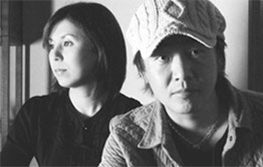 SHIMOO DESIGN
A unit artist consisting of Kazuhiko Shimoo and Saori Shimoo.
After training each other in furniture making, they established an atelier in Yao-cho, Toyama City in 1997.
Based on the concept of "beautiful tools," the aim is to incorporate Japanese culture and aesthetic sense into modern lifestyles. Mainly designs and manufactures wooden furniture and interior accessories. We also design products using other materials, pursuing a ``Japanese beauty'' that does not feel trendy or timeless.
Major works include the table tray series (Michel Troisgros, 2008), ``CHAJOKU'' standing table (2008 Jugetsudo Paris store), and ``edge fittings.'' 1998/2001 Awarded numerous awards including Craft City Takaoka Craft Competition Grand Prize.